In a surprising move, Elon Musk, the CEO of Tesla and SpaceX, tweeted on April 1st, 2023 that he had decided to replace Twitter's iconic blue bird logo with a meme featuring the popular internet sensation, Doge.
The tweet quickly went viral, with many social media users questioning whether the announcement was an April Fool's Day joke or a serious business decision. However, the change was confirmed by Twitter shortly after the tweet was made.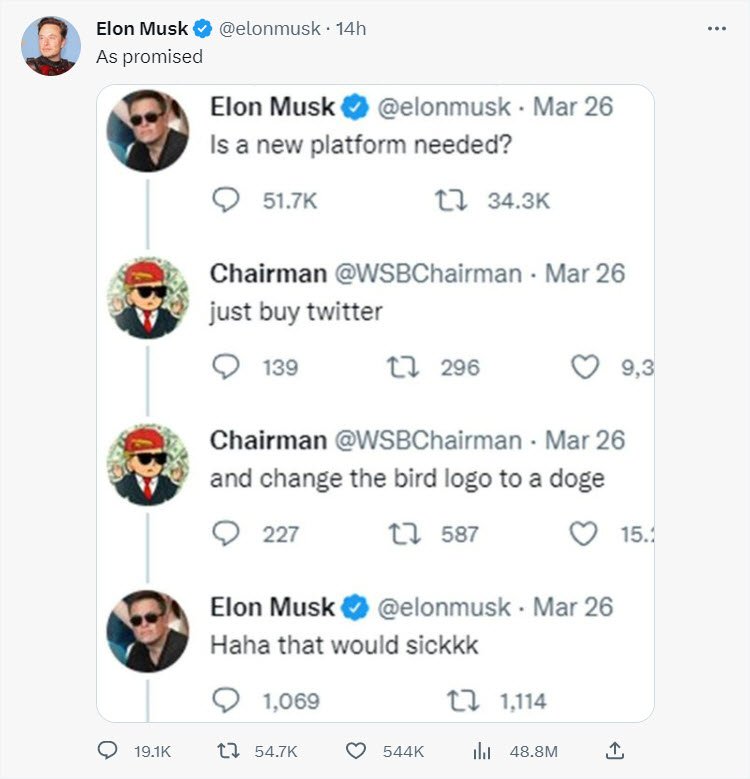 This move is not entirely out of character for Musk, who has long been known for his unconventional business strategies and quirky sense of humor. The billionaire entrepreneur has a long history of using Twitter to share his opinions and announcements, often using memes and pop culture references to convey his message.
The Doge meme, which features a Shiba Inu dog with a cheeky expression, has become one of the most popular memes on the internet in recent years. It has been used to express everything from excitement to skepticism and has even been adopted as a symbol of the cryptocurrency, Dogecoin.
Musk has been a vocal supporter of Dogecoin, often tweeting about the cryptocurrency and driving up its value. His decision to replace Twitter's logo with the Doge meme may be seen as a nod to his love for the digital currency.
Twitter's logo has been a symbol of the social media platform since its inception in 2006. The blue bird has become synonymous with Twitter, and its removal in favor of a meme is a bold move that is sure to attract attention.
Many social media users have taken to Twitter to express their opinions on the logo change. Some have praised the move as a fresh and fun update, while others have criticized it as unprofessional and unnecessary.
It remains to be seen whether the change will have any long-term impact on Twitter's brand and reputation. However, one thing is for sure: with Musk at the helm, Twitter is sure to remain an interesting and unpredictable platform.
After Twitter incorporated the mascot of the cryptocurrency as their emblem on Monday, the price of Dogecoin increased by up to 20-30%. The meme coin's price has risen to $0.092, which is the best it has been in over a month.
Following Elon Musk's request to have a $258 billion racketeering case against him dismissed, which accused him of running a pyramid scam to support the cryptocurrency Dogecoin, this occurred.
You may also like: