Kunal Shah who earlier found the highly successful FreeCharge app recently launched his latest venture called Cred.Club, an invite exclusive credit card bill payment app which rewards users for paying their credit card bills.
I have been using this app for nearly a yearly now and I wanted to write something about it as it is first of its kind app and apparently not many are still aware about it even though it has already raised over $200 million in funding.
A new round of funding is expected to more than double its valuation to over $2 billion, two sources aware of the matter said.
Features Overview –
easy bill payment experience through modes like UPI, Net banking and Debit cards
credit card bill payment reminders
automate fetch your credit card bill payments
expose hidden charges on your credit card with cred protect
get real-time alerts on duplicate transactions on your credit card
manage multiple credit cards on a single app
keep a realtime check on your credit score
People using Credit Cards are aware about the pain it is to actually pay their bills and especially if they don't have an account in the bank to which their card belongs to. You either use payment gateways like Billdesk or do an account transfer which sometimes takes 2 to 3 working days to reflect.
With Cred, this turnaround time is relatively zero as all of your payments are credited within minutes through IMPS, which is a huge relief. So its ticks the basic requirement of an app, solving a real world problem.
In order to register on the app you just need to use the registered mobile number and then Cred will automatically fetch all the connected credit cards. However as of now to use the Cred App you will have to have a credit score of 750 and above. Once the card details are fetched, some basic details need to be provided post which, Cred.Club deposits Rs 1 in your card for verification purpose.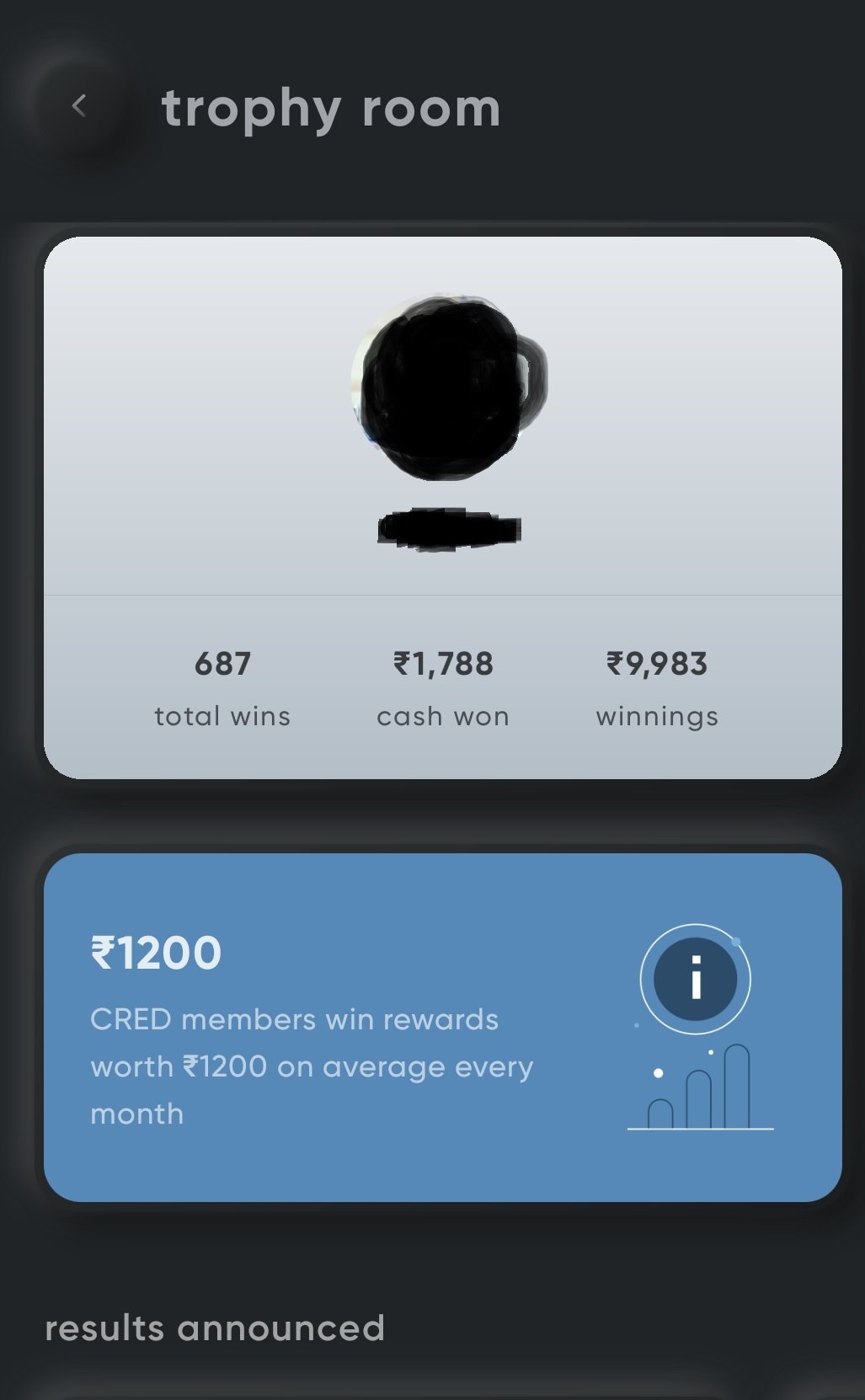 Now, on the home screen you can see your Credit score calculated via Experian and CRIF. Detailed report can also be seen for free which will usually cost you around Rs 500 if you ask your bank for it. You can directly proceed to paying of bills, which can be paid in full or any custom amount as well.
Once the payment is made your wallet gets credited with exactly the same amount of Cred Coins as the bill amount paid by you, which can be further used against the various rewards Cred offers in association with its partner merchants.
So here you can see in belowscreenshot, there are total 1,15,933 coins available which has been earned by paying the credit card bill. You can also redeem CRED coins for actual cash in 'Kill the Bill' section which is a cash back offer where you can earn up to 1,000 or more.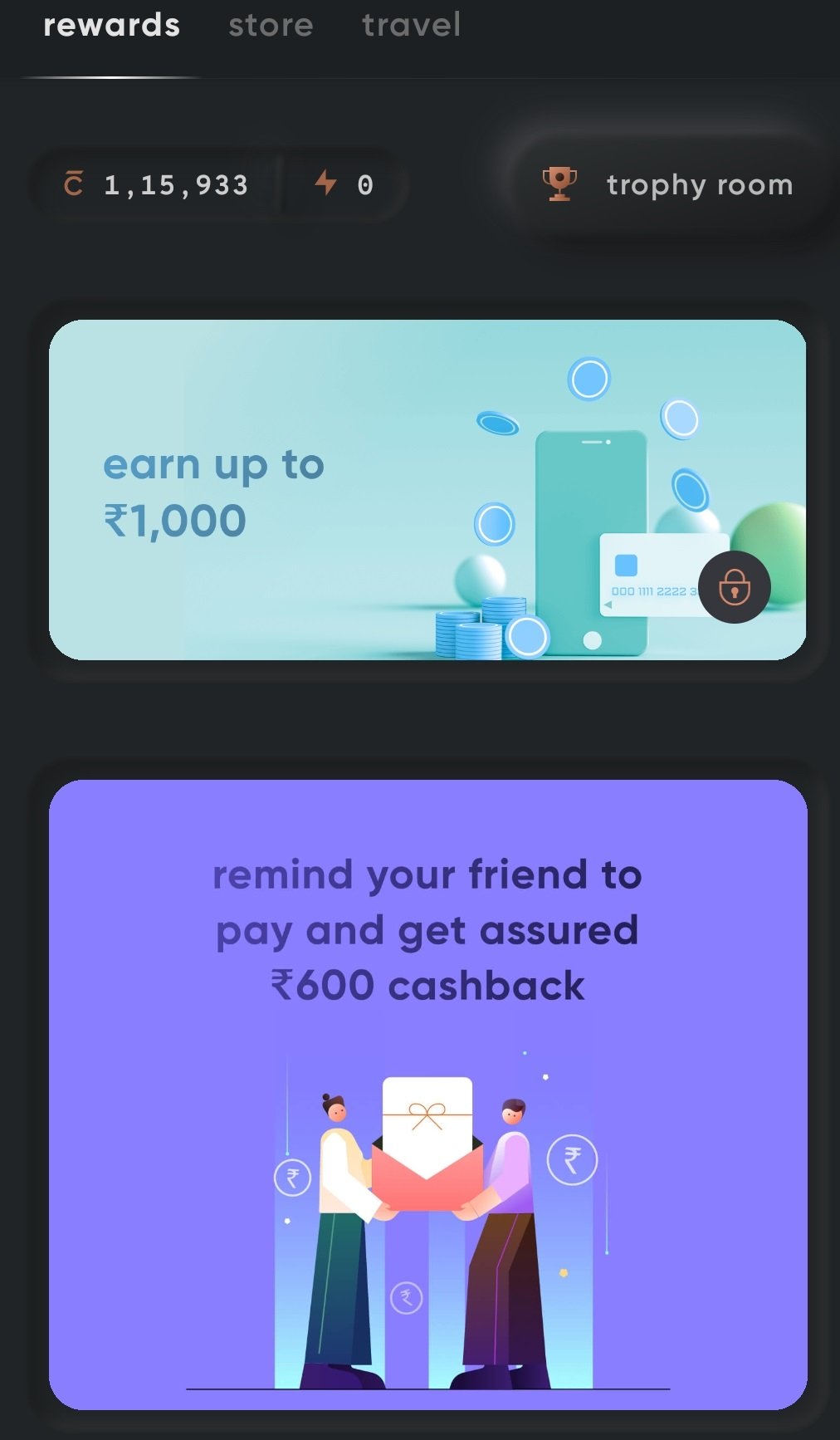 You also get two scratch cards per transaction like those in Google Pay but here you will have to burn you Cred Coins in order to reveal the amount. Any amount won through these cards are directly added to your credit card account.
From finding returns on investments to the ideal EMI to pay for your dream car, Cred also provides a list of free online calculator tools: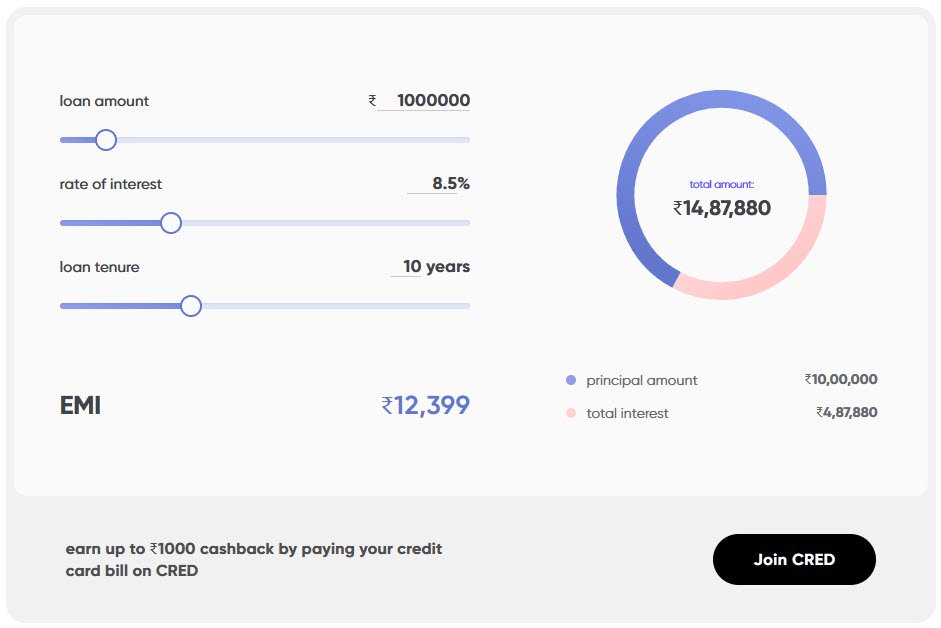 Other important functionality of the app is the way it shows up your Credit card statement. Now in order to use this, you will have to grant Cred app access to your email which can be revoked any time. Along with the entire statement it also distributes your expenditure into categories like Shopping, Travel, Wallets, etc.
You can further drill down into these categories like for Shopping it will show all the merchants or website were you have made these transactions. Few of my friends found this functionality to be quite scary as it got all their data but some might really like these in order to know their spending patterns.
All these useful features coupled with a beautiful UI and hassle free experience really enhances the way this app solves the credit card bill payment problem.
Furthermore, you can also play the spin roller and get a chance to win either some amount of money or Jackpot.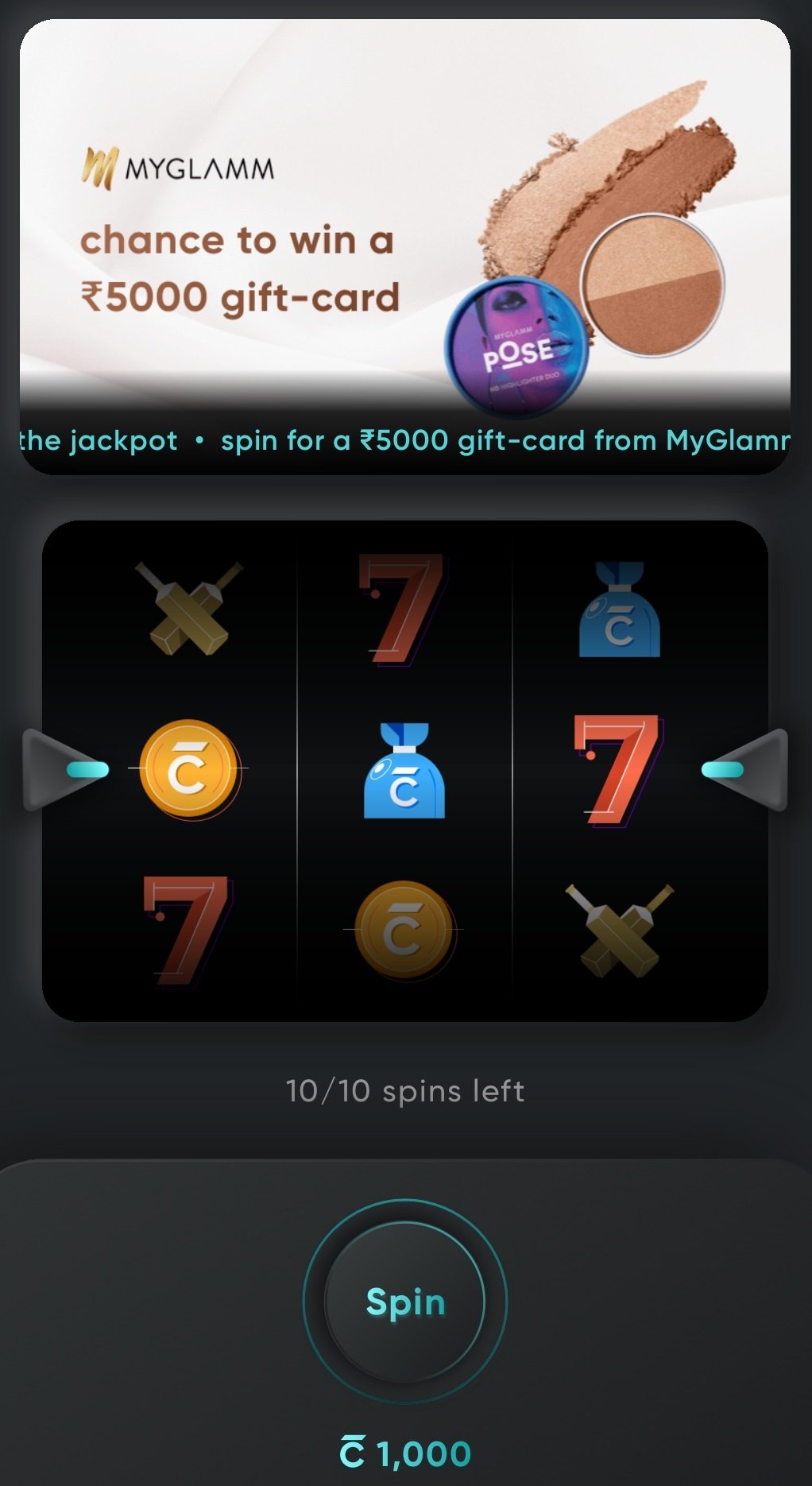 You can even buy a ticket with your cred coins and get a chance to win curated offers as shown below: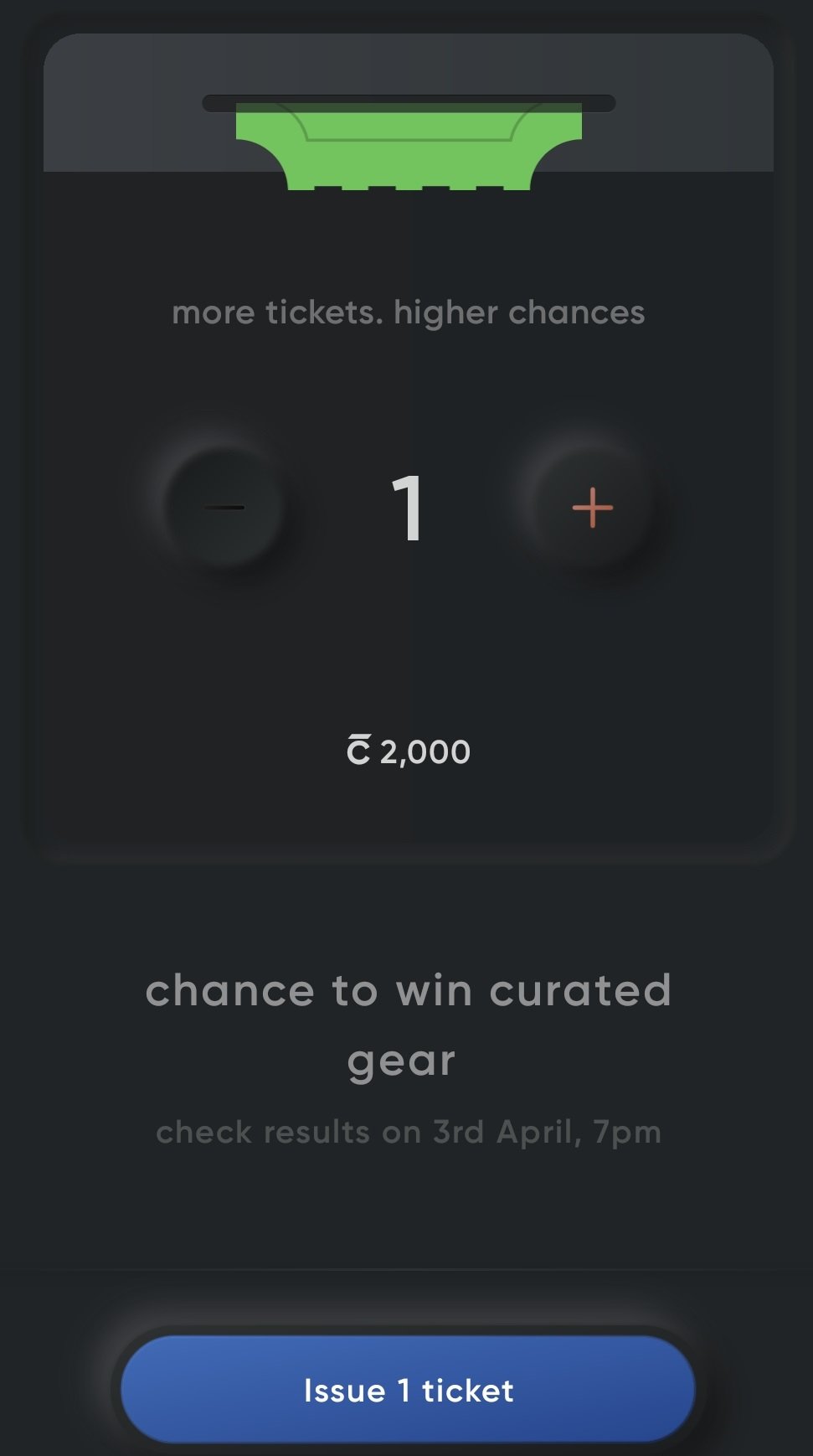 CRED supports various credit card bill payment for
American Express,
Standard Chartered,
Citibank,
HSBC,
HDFC,
ICICI,
SBI,
AXIS,
Kotak,
RBL,
PNB and other top Indian banks.
For reference, some of the sample offers which you can redeem using your Cred Coins and for this, Cred has introduces CRED Pay feature that enables you to shop from favorite brands such as Taj Mahal Tea House with your cred coins.