Google AdSense allows webmasters to dynamically serve content relevant Ads on web pages. The money that you earn from Google AdSense program is totally dependent on you and your abilities.
Also Read: [Online Money] Top Alternatives To Google Adsense
Here are some suggestions that you can use to get the best results from your Google AdSense Ads:
1. Use channels
Channels always help you in conducting a better analysis of the performance of your AdSense Ads. You can use custom channels to check what web pages are making more revenue and which ones are not doing so well.
Custom channels are used to group ad units together to help you track the effectiveness of your ads.
You can even filter all the results based on various options such as: Ad format, Ad network, Ad size, Ad unit, Bid type, Content Platform, Country, Creative size, Custom channel, Custom search style, Date, Month, Placement method, Platform, Product, Requested format, Served creative, Site, Targeting type, URL channels, Verified site and Week
In fact, custom channels can be used for conducting analysis on multiple aspects at the same time. You can use multiple filters at a single time. So based on these analysis, you can work on website content in order to get more better results.
2. Ad customization and positioning
Color, Shape and Size are the three properties of your AdSense Ads that you could quickly manage and customize in a manner that the Ads don't look out of place when served on your website.
You can either make your Ads stand-out from the rest of the content on your webpage or you can make them mix with the overall webpage.
Furthermore, you can identify the locations on your site and setting your Ads accordingly. Ad customization and Ad positioning are, in fact, the best ways to attract more clicks to your Google AdSense Ads.
There are 5 types of Ad Formats:
In page Ads
Anchor Ads
Vignette Ads
Wide Screen Ads
Matched Content Ads
3. Content quality
If you post quality content on your website and offer regular updates to your visitors and your audience, you can expect more traffic to your website. This will in turn lead to more ad impressions and possibly more clicks results more money.
You can evaluate your content quality with the following factors:
Readability
Formatting
Spelling
Grammatical Mistakes
Visual Appeal
Length of the article
Trustworthiness
Suppose you are running an eCommerce shopping website where you are selling some kind of products so its your responsibility that your readers must know about your products or services you offer, so you should write the content accordingly and use the proper keywords to get the best rank.
This helps your rankings, as more visitors and lower bounce rate tell Google that you are performing good.
Another important key element of quality content is making sure it's up to date and relevant in nature because this things builds trust and will keep them coming back to your site.
Furthermore, you should link internally pages to relate the content that will satisfy user intent. You can also use the Google Keyword Planner tool to extract the best keywords for your SEO campaign.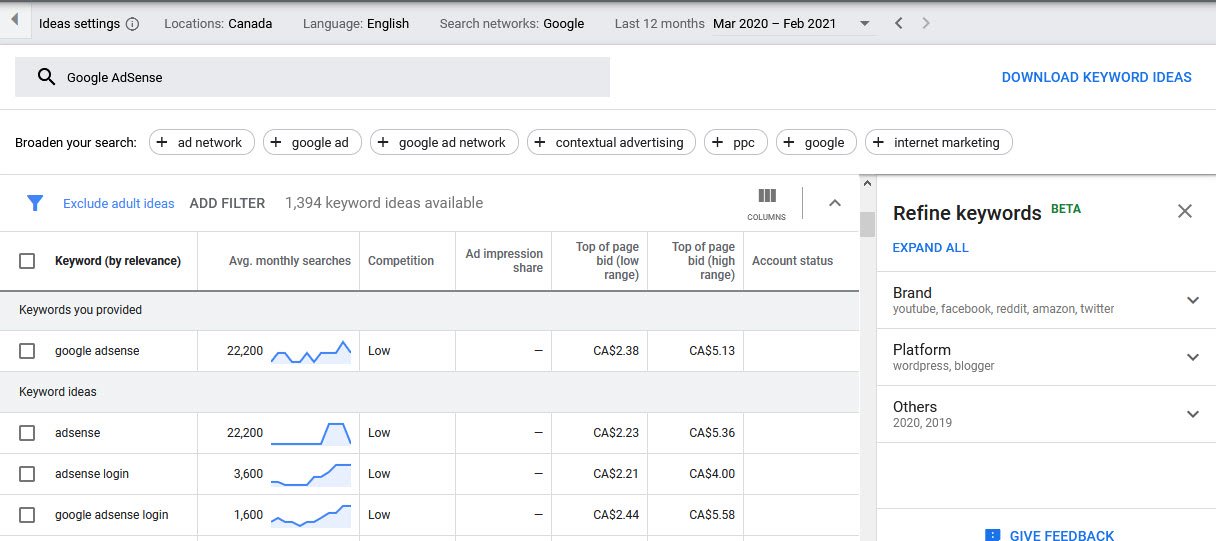 4. Apply AdSense Ads on all pages
If you have multiple web pages (static/dynamic) on your website, you should include AdSense Ads on all of them. Since the visitors can enter your website through a number of different pages, having AdSense Ads on all the pages will surely increase your earnings.
An accessible, easy-to-use menu bar is a key part of providing a good user experience.
Still having questions? create a thread in Community Forum now and get the answers from Google Product Experts.
Google also offers a wide array of products and services to help you enhance your site's content and monetize your webpages. You can earn additional revenue by displaying ads on your other properties as well, including web elements, mobile webpages, videos, or even Google maps.
Advantages of Google Adsense:
Advertisement
Simple and Quick
Controlling the Site
Payout system
Huge network for advertisers
Google search box technology
Always keep in mind that the traffic cannot be generated overnight, and you have to give your time to your site. If you wan to get good traffic, then here is the list of points which you can consider:
On page Optimization – This is the one of the most important step
Make your site search engine friendly and mobile responsive
Submit site to all major search engines like Google, Bing etc.
Submit your site to major and important directories such as hotfrog etc
Write Articles and submit guest articles to article directory websites
Email Marketing
Auto responder marketing on both email and phone
RSS Feeds
Forums discussion
Social Media Optimization